JACKSON HOLE SKI BOOT FITTING
Prioritize ski boot fit and comfort
Taking care of your feet means investing in both skiing comfort and performance. Make sure you have your best ski day ever by starting at the bottom — your feet.
If you've ever worn a pair of ski boots that doesn't fit right or been on the chair with somebody whose boots fit badly, you've found out how quickly foot pain can ruin a day on the slopes. At Hoback Sports we understand exactly how important the entire ski boot fitting and buying process can be, and we're here to help you avoid frustration. Give us a call at 307-733-5335 to make an appointment with on of our bootfitters.
The Hoback Boot Fitting Process
Purchasing & Customizing New Ski Boots
When coming in to purchase a pair of boots, we recommend you bring your previous boots (if you have them) and the socks you wear while skiing. Plan on spending at least half an hour with us to narrow down your options and choose the best boot for you from our incredible selection.
After working together to find what model works best for you, we'll start the customization process. This can last 30 minutes – 2 hours, depending on the molding available in the boot's liner/shell, whether we are creating a new ski boot footbed, whether you're upgrading to a custom ZipFit or Intuition liner, and if we're adding any other accessories to the boot.
Bottom line: We want to provide the absolute best service experience possible and are willing to spend the time to create a custom ski boot for you.
Custom Ski Boot Foot Beds
All new boots purchased with the purchase of a custom footbed are also backed by our boot fitting guarantee. This means we will guarantee the fit of your boot and will perform any number of modifications to the boot for free during the first season the boot was purchased. The footbed is required as it is the foundation for our boot fitting method. It helps stabilize your foot in your boot, which will solve many problems on its own but also enable us to be precise with any additional work that is necessary. We believe in our footbeds so much we'll even give you $50 off a footbed with any ski or snowboard boot purchase!
Ski Tuning & Repair
Brand new for the 23/24 season, our MONTANA Crystal Rock ski and snowboard tuning machine is one of the most technologically advanced tuning machines in the world. To help you go fast and stay in control, our experienced techs hand finish every tune.
Learn More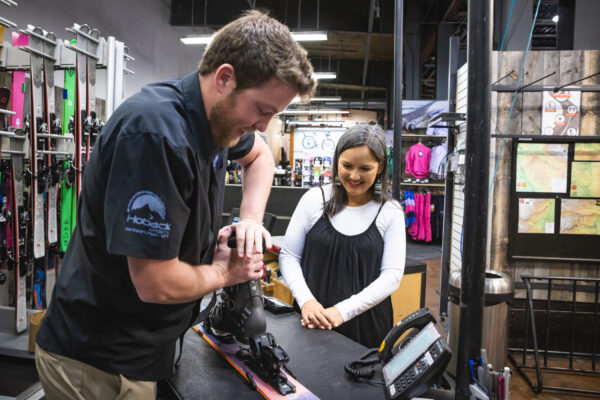 Ski Rentals
We offer premium ski and snowboard rentals from the best brands in the industry. We offer alpine ski & snowboard rentals, backcountry ski rentals, splitboard rentals, snowshoe, and cross country ski rentals. You can choose any of our rental locations to pick up, exchange or return your ski or snowboard rentals.
Learn More